Win Free Copy of PicGIF / VideoGIF for Mac
Enjoy the Endless Fun of Making Awesome Animated GIFs!
Campaign Introduction
This exclusive offer is designed for webmasters, forum moderators, bloggers and administers of Facebook/Twitter page/YouTube channel who would love to get our great software for FREE!
What will you get from PearlMountain?
You can get PicGIF or VideoGIF free of charge for review. If you want to launch a giveaway to attract more readers and fans, we would also be happy to sponsor our software.
What will you benefit from the campaign?
You can use our great software to post review with fun GIFs to attract more potential visitors. It would be something that really resonates well with present readers too.
How to Join the Exclusive Giveaway Offer?
Please take a closer look at the following rules:
Write a High Quality Review
Have a free trial by clicking "Download Free Trail" button above, compose a high quality review for VideoGIF or PicGIF and publish it on your site.
Create Do follow Links to Our Site
It would be much appreciated if you place a backlink to our site in the review post. We also appreciate it if you share your review on YouTube / Facebook / Twitter / Google plus, other social networks, etc.
Contact Us for Free license Codes.
To win the license code for PicGIF /VideoGIF for Mac, please email us with the related review post URL. In this case, your license key will be valid as long as the review post is on your site. If you want to be a partner of us, please just contact us right now!
Media Review

"VideoGIF is a straightforward Mac OS X application designed to help you create animated GIFs by trimming and cropping parts from a video or movie."
- softpedia.com

PicGIF's interface is typical Mac. It's easy to import photos and drop them into a timeline, add text, adjust dimensions, change typical GIF settings, and share online.
- mac360.com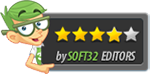 PicGIF is a great application. Not only can you take control of the entire animation process, but you can set the picture size, fill mode, frame delay and playing sequence.
- soft32.com